PSG Come Knocking For Arsene Wenger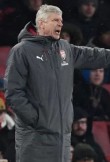 Another year, another early Champions League exit for Paris St Germain.

Unai Emery

's PSG side were well beaten by Real Madrid and now his board could be set to bring in Arsenal manager

Arsene Wenger

as a replacement.

Timing is everything
Arsenal have had their worst start to a calendar year in decades and Arsene Wenger appears to have lost the Gunners' dressing room. In an Arsenal Supporters Trust conference yesterday, a massive 82 percent of the club's fans voted that they would rather Wenger leave the Emirates than continue for another year. Sitting in 6th in the Premier League and just a handful of points ahead of Burnley, it has been a dismal season for Arsenal so far.
PSG on the other hand appeared to have reversed their fortunes in Ligue 1. Having brought in Neymar and Kylian Mbappe for world record transfer fees, Unai Emery had been expected to lead the club to major domestic and continental success. However, last night a 5-2 on aggregate drubbing by Real Madrid suggests that the French club are some way off of getting their hands on Europe's biggest prize, the Champions League.
Both Arsenal and PSG's board have some important decisions to make over the next few months and timing is critical.
Arsene Wenger, often stubborn in his insistence that he is the right man for the Arsenal job, even looks to be losing faith in his own abilities at the club that he has built from the bottom up.
Unai Emery on the other hand appears to be set for the exit door simply because PSG's wealthy Qatari owners expect nothing but the best and will change the club's coaching team until they find the right manager to lead them to Europe's top title.
A surprise swap managerial swap deal?
For Arsenal fans, playing second fiddle has been the norm for the best part of a decade. With PSG offering Emery in exchange for the signing of Wenger, the Gunners would probably consider this deal despite it being an indication of just how far Arsenal have fallen behind Europe's elite.
Emery has taken his former club Sevilla to multiple European success; at Arsenal, Arsene Wenger has two European final defeats.
For PSG, Wenger has the experience and knowledge of French football that would arguably give him the platform to build a European winning team. He has the financial resources that have been a major constraint at Arsenal, partially because of the club's move to the Emirates but also because of transfer restrictions enforced by Wenger himself.
This could be an interesting proposition for both clubs should a swap be an option.
Where next for Wenger?
Wenger has just 15 months left on his contract and he has hinted that retirement is not an option. Wenger has remained loyal to the Arsenal cause and now for the first time in 21 years it looks like his time could be up.
A move to PSG to win some of Europe's top prizes could be a smart move for the 68-year-old before he calls time on his managerial career.

Paul Parker
en